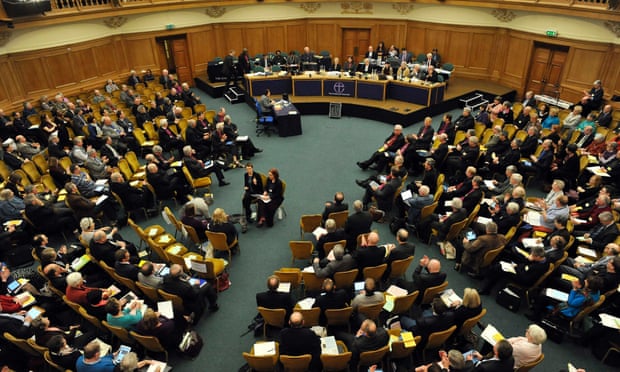 [General] synod called on the government to launch an independent review of the impact of benefits sanctions after hearing anecdotal accounts of hardship and humiliation from bishops, clergy and lay members.
Speakers acknowledged the need for checks on the benefits system to deter abuse, but said the sanctions system was punitive, targeted at the most marginalised and vulnerable, and created a climate of fear and anxiety.
Sanctions made many claimants feel under suspicion, said Malcolm Chamberlain of Sheffield. The "highly punitive regime" resulted in people "begging, borrowing and stealing in order to meet daily needs".
He cited a case of a claimant being sanctioned for failing to attend a benefits interview because he was at a funeral, and another case of sanctioning when the claimant was being interviewed by police after his house was burgled.
Elliot Swattridge, of the C of E's youth council, said: "The system is not just broken, but is cruel, even deadly."
Catherine Pickford of Newcastle, which hosts one of the country's largest food banks, said for many claimants sanctions felt like "an arbitrary and dehumanising [punishment] for being unemployed".
According to Simon Taylor of Derby, the impact of sanctions lasted far beyond the period covered by withdrawal of benefits. "Sanctions are not removing dependency but perpetuating and increasing dependency. This is a counter-productive system."
The former Tory MP Tony Baldry urged the church to embark on a mass lobbying campaign of MPs on the issue of benefits sanctions. "From my 30 years of experience as a member of parliament, the most effective way of engaging with the system is actually to go and see your member of parliament at their constituency surgery.
"They can't escape … And they're going to have to do something. And, actually, most members of parliament will treat with great respect a delegation from their local deanery synod or local clergy."
Such meetings would generate correspondence from MPs to ministers and questions in parliament, he said.
Here is the motion:
IMPACT OF SANCTIONS ON BENEFIT CLAIMANTS (GS 2019A AND GS 2019B)
The Revd Canon Kathryn Fitzsimons (Leeds) to move on behalf of the Leeds Diocesan Synod:
That this Synod:
(a) welcome the extensive work already undertaken by the Church of England in partnership with others to evaluate the impact of benefits sanctioning and to identify and promote recommendations for the reform of sanctions policy and practice;
(b) call on Her Majesty's Government to implement the recommendations numbered 58-63 inclusive, made in December 2014 by the All Party Parliamentary Inquiry Report into Hunger in the UK Feeding Britain in respect of the use of sanctions upon benefit claimants;
(c) call on Her Majesty's Government to initiate a full independent review of the impact and efficacy of the sanctions and conditionality regime; and
(d) encourage every part of the Church of England to offer practical and pastoral support to those experiencing benefit sanctions, building on the Church's work with food banks, credit unions and debt advice.
Three amendments were moved by Nigel Bacon, the Venerable Malcolm Chamberlain, and the Bishop of St Albans, which were carried and are included in italics above.
Synod then voted in favour of the amended motion on a counted vote of the whole Synod.  The voting was as follows:
For: 320; Against: 0.  2 abstentions were recorded.
Sources:http://www.theguardian.com/world/2016/feb/17/church-of-england-attendance-decline-30-years-general-assembly
https://www.churchofengland.org/media-centre/news/2016/02/general-synod-february-2016-sessions-wednesday-am.aspx