This article by Matthew Taylor originally appeared in the Guardian.
The Barnsley HQ of the 1984 miners' strike is buzzing again, as host to a Unite scheme aimed at empowering the community.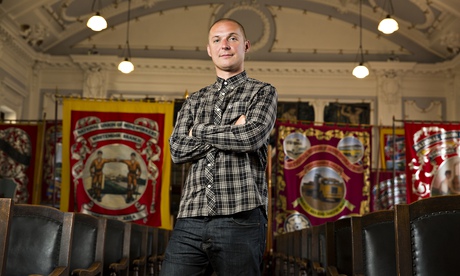 The small wood-panelled office, where piles of "Coal not Dole" stickers vie for space with posters decrying the government's
bedroom tax
, has already seen its fair share of history.It was from this room in the
Barnsley
headquarters of the National Union of Mineworkers that Arthur Scargill fought the 1984/85 miners' strike – one of the most bitter industrial disputes of the 20th century.Now most of the mines are closed and the union movement is a shadow of its former strength. But Scargill's old office is buzzing with activity once again.
Unite
has started up a community scheme, launched two years ago, that offers membership of the union to those not in work – unemployed people, students and pensioners – and the cost is just 50p a week.
Blending practical support, on issues ranging from welfare cuts to housing, with often radical direct-action campaigns, the union has attracted 7,000 members spread across 70 local groups in the past 24 months.
"It is about reaching out to people who might not even know what a trade union is and making it relevant to them and the struggles they are facing in their own community," said Joe Rollin, as Unite community volunteers offer advice and support to a steady stream of Barnsley's unemployed going into Scargill's old office.
Rollin, 36, is one of 10 regional coordinators and the Barnsley office was  a donation, given free of charge, by the NUM. He says that with the economic slump and increase in short-term, zero-hours jobs, the idea that trade unions should only help those in work is outdated.
"We are saying the union is not an exclusive club. If you find yourself out of work we can't be saying 'oh sorry we haven't got a place for you any more'. It is about that duty to our members and crucially bridging the gap that this government is trying to create between people in work and the unemployed."
At 7am that morning Rollin and about 15 other Unite community members had been on a local picket line at an Argos factory to support a dispute and then staged a protest outside the company's store in the town centre.
Other volunteers help out at a local food bank and soup kitchen before opening the doors to the drop-in centre at around 10am.
"We are trying to link more radical direct action type stuff with practical support for people in their communities," said Rollin. "It is about offering help first, then education and organisation … that mixture seems to be creating quite a buzz in Barnsley."
The Barnsley group has been at the forefront of the anti-bedroom tax campaign and has initiated scores of challenges against the government's benefits sanctions. Its members have also been involved in Unite's wider direct action, or leverage, campaigns. Other groups scattered around Britain have launched hundreds of similar grassroots campaigns, from saving women's refuges to opposing youth club closures. Some have teamed up with migrants' rights groups to fight discrimination and others have successfully secured apprentices for young people.
Rollin says that the activism gives people who have often felt ignored and isolated a feeling of empowerment and of being useful again. Just as important were the growing links between community members and those in work.
"We want to give workers the confidence to take industrial action because bosses are constantly telling people 'if you don't like it there are millions out there that do'. But if we can show that unemployed people are supporting workers on the picket line that is a really powerful thing to do."
The small team working out of Scargill's former office are all volunteers, some of whom became involved after going to the centre for help.
Rollin said: "When the government are saying unemployed people are lying in bed until 2pm with the curtains drawn we can actually say, no, they are down on the picket line at 7am in the morning, then volunteering all day helping other people, as well as desperately searching for work."
One of the campaigns the Barnsley community membership union has backed is the effort to protect free bus and train travel for elderly people and people with disabilities in the region.
Hundreds of protesters, many Unite community members, have taken part in weekly Freedom Rides – a tactic made famous by America's civil rights campaigners – refusing to pay for tickets as they travel en mass from south Yorkshire towns to weekly rallies at Meadow Hall station near Sheffield. Unite has provided transport, printed leaflets and offered legal support to the campaign.
The protests, which organisers say have had widespread public support, have forced a partial U-turn by local transport chiefs, who have agreed to restore free travel for disabled people and offered half-price tickets for elderly citizens. But the campaigners say the protests will continue until full free travel concession are restored.
Unite says that, across Britain, its community membership scheme has helped tens of thousands of unemployed people, students and pensioners, the membership growing all the time.
With British trade union membership hovering at about 6.5 million (compared to its 1979 heyday of 13 million) it is thought the union movement can do with all the fresh thinking it can muster.
As he shows off the NUM's meeting hall festooned with colliery banners recalling that union's past industrial might, Rollin says Unite's effort to reach out to those without jobs is breaking new ground and could be the start of a significant chapter in Britain's labour history. "It is reconnecting our community with trade union values. People who might never have come across a trade union, apart from what they read in the papers, suddenly see what we are about and see that together we can stand up and be counted."