It is with great sadness that today we witnessed the passing of Bob Crow, the General Secretary of the National Union of Rail, Maritime and Transport Workers and a member of the General Council of the TUC.
Bob was a giant within the trade union movement, a true champion of worker's rights who fought voraciously for his members. He will be greatly missed.
The following obituary is by Gwyn Topham from the Guardian, Tuesday 11 March 2014.
Bob Crow: a tenacious and shrewd champion of RMT members' interests
The union leader was unafraid to swim against the political tide to win pay rises even as wages were going down elsewhere.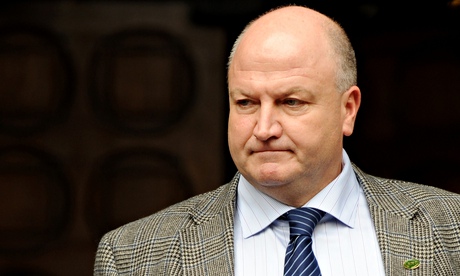 Bob Crow, who died in the early hours of the morning aged 52: loved by his members, respected by the bosses. Photograph: Ben Stansall/AFP/Getty Images
In a political era when many on the left believed a shifting Labour party had abandoned its traditional supporters, Bob Crow was a strong alternative voice and, in practical terms, a viable force.
The Rail, Maritime and Transport workers union (RMT) he led repeatedly won pay rises for its members even as wages were falling elsewhere.
The most recent flexing of Crow's muscle came with the London Underground strikes. But the union was always fighting, and often winning, similar battles nationwide, with industrial action and ballots called to protect everyone from cleaners on Merseyrail to caterers at Euston in recent weeks. And Crow spoke out every time.
Membership of the RMT increased sharply under his 13-year leadership, during which the union broke its links with Labour, in 2004.
His militant class politics seemed to swim against the tide, within the union movement in the 1990s and later in the wider political culture. Before the Olympics, sections of the press were outraged by his demands for bonuses for those who would be operating at the sharp end of a heaving transport system.
But Crow's unabashed, straightforward pursuit of better terms and conditions for transport workers, at a time when so-called efficiency savings and cost-cutting hit the wages of lower paid people elsewhere, resulted in a pay gap in the rail industry that is a fraction of that on airlines, for example.
The blunt, shaven-headed, Millwall- supporting Crow was easily portrayed as a classic union bogeyman in the rightwing press, and he was doubtless cursed by many commuters on strike days. But polling often showed that he and his causes were more popular among the public than the caricature suggested.
He spoke bluntly but fluently, and was good with soundbites, whether in suit, cloth cap or football shirt; and he appeared on the likes of Have I Got News for You, like a working-class Boris of the hard left.
His political opponents would often accuse Crow of being a dinosaur, but the recent Tube strikes over ticket office closures showed a degree of public support that suggested his instincts were sound.
He was, those close to him say, a hard and dedicated worker, and a jovial character able to enrich an evening. His defiance over his well-publicised cruise holiday on the eve of the walkouts was typical. Why, he asked, wasn't a working man allowed to spend his money on a cruise: it had been advertised in the Daily Mail.
While he was unafraid to call a strike, associates remember him as shrewd negotiator who also knew when to settle and how to play his hand.
His sudden death came in the middle of talks over the tube's future. Manuel Cortes, leader of the TSSA union, which was striking alongside the RMT said: "The thing with Bob was that he was respected by employers and loved by his members because he did the best he could to ensure they got the best possible deal on offer.
"I am proud and privileged to have stood alongside Bob. He was tenacious, and he carried the overwhelming support of his members. While many bosses might not have said it in public, he carried their respect. He understood that his job was to get the best possible deal for his members. That is what he always did."